CADEX 2016 tackled big issues Canadian Auto Dealer, April 20 2016
"There's never been more disruption in the auto industry. We're in an era of massive opportunity," said Carlisle to the room packed with dealers.
Carlisle talked about the different ways GM is exploring mobility and the ownership model globally, as seen through its recent partnerships with Lyft and its new car-sharing service, Maven, for urban dwellers.
His presentation also explored electric vehicles and the move to reduce emissions, as well as the migration from the connected car to autonomous vehicles. Carlisle cited recent research that found autonomous vehicles will be a $87-billion industry by 2030.
Read More
Five star experience, five star reputation Canadian Auto Dealer, March 2016
YOUR ONLINE REPUTATION MATTERS. HERE'S HOW TO DEVELOP, BUILD AND PROTECT YOUR BRAND ONLINE.
Warren Buffett once said, "It takes 20 years to build a reputation and five minutes to ruin it. If you think about that, you'll do things differently." You've spent years building your dealership's reputation — investing time, sweat, and resources into providing an exceptional customer experience. No one understands how valuable your reputation is more than you.
Read More
Look back to look ahead
Canadian Auto Dealer, Jan/Feb 2016
HOW TO STAY AHEAD OF THE CURVE IN THE EVER-CHANGING AUTO RETAIL INDUSTRY
As we shift gears and head into 2016, I would like to take a moment to reflect on the changes this industry has seen over the last quarter century and how they have driven us forward.
As much as the vehicles we sell have evolved, so has the rest of this business. The massive shift to digital has impacted every aspect of our industry. Sometimes, it's only when you look back that you can see how far you've come and can determine where you're heading.
Read More
Poorly managed leads create their own problems
Canadian Auto Dealer, Nov/Dec 2015
IS YOUR DIGITAL HOUSE IN ORDER?
Leads are the lifeblood of our industry. They're what keeps the keyboards clicking, phone dialers busy, and help most dealerships drive more customers into their showrooms.
As I write this traveling back from the DrivingSales Executive Summit, I'm once again reminded at these industry conferences how fortunate I am as a Canadian to have learned from the dealer experiences in the U.S. The challenges in lead management that burdened our U.S. dealer clients a few years back are now precisely those that are front and centre with Canadian dealers. Read More
The Digital Lead and Why We Must Adapt
Canadian Marketing Association, November 15 2015
Andrew Assad from Google Canada, who also sits on CMA's customer experience council, was fortunate enough to sit down for a quick Q&A with Alan, to discuss their award winning whitepaper "The Relationship of Sales to Initial Quality of Response". Read More
Alan Bird, President & Chief Executive Leader, speaks at the 2015 DrivingSales Executive Summit in Las Vegas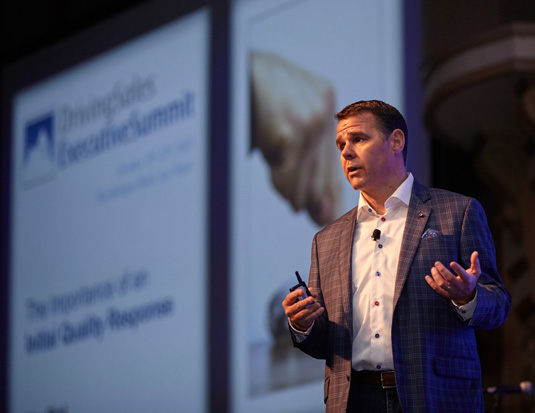 On Sunday, Oct 18th, prior to the official opening of the 2015 DrivingSales Executive Summit, which took place this year at the Bellagio in Las Vegas, dealers from across Canada gathered together for a special "Canadian Session." Read More
Alan Bird & Jay Radke tackle the subject of Digital Vehicle Merchandising – Part 3 of 3
Robust lead management system gaining market share
Canadian Auto World, July 29 2015
It is an interesting juxtaposition that at the same time Canada's new-car retail space chugs towards a third consecutive record year, dealerships across the country are experiencing some of the lowest showroom traffic numbers ever. Read More